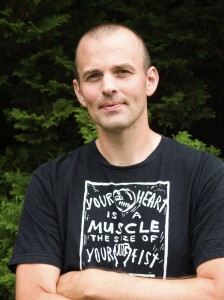 My name is Chris Dixon. I'm a white, middle-class, straight cisgender and able-bodied man originally from Anchorage, Alaska, on Dena'ina territory, which I still regard as my home. I'm also a longtime anarchist with a deep commitment to collective struggles for liberation, and I have been involved in social movements for more than twenty-five years. I am part of a political tendency that prioritizes grassroots organizing, creative direct action, movement-building, tenderness and care, coalitional work, developing institutions, vision-based strategy, and engaging in dialogue with other sectors of the left, all with the aim of challenging and transforming social relations of domination. I live in Ottawa, Ontario, on Algonquin territory, in Canada.
I devote my time to homemaking, activism, writing, editing, and teaching. I'm a member of Punch Up Collective, a columnist for Canadian Dimension, and an advisory board member for the activist journal Upping the Anti. Formally trained as a radical scholar of social movements, I have a PhD from the University of California at Santa Cruz. My writing has appeared in numerous book collections as well as periodicals such as Anarchist Studies, Briarpatch, Clamor, Earth First! Journal, Left Turn, Punk Planet, Social Movement Studies, and Upping the Anti. My book Another Politics: Talking Across Today's Transformative Movements was published in 2014 by University of California Press. I speak regularly across the U.S. and Canada about strategy, movement history, anti-authoritarian politics, leadership, and movement-based research. I am also an adjunct research professor in the Department of Sociology and Anthropology at Carleton University, where I work with activist graduate students and occasionally teach. For a detailed list of my work, please see my CV.
A little more about me:
Much of the fabric of my life has been shaped by my experiences in public alternative schools. As I child, I went to an "open optional" elementary school. For grades 7-12, I attended Steller Alternative School, where I stumbled into radical politics and started organizing around student power, feminism, environmental issues, anti-militarism, and labor solidarity.
In 1995 I entered The Evergreen State College in Olympia, Washington, in order to further my political education. During my years there, I got involved in animal rights activism, protested U.S. sanctions against Iraq, helped to organize a regional activist conference, participated in a student group fighting against the prison industrial complex, campaigned against Nike's use of sweatshops, contributed to a men against sexism project, and joined in efforts to challenge what we called "capitalist globalization." I also co-led a successful campaign to have U.S. political prisoner Mumia Abu-Jamal as the featured speaker at my 1999 graduation.
After graduating from Evergreen, I worked for several months as a core organizer for mass direct actions against the World Trade Organization's Seattle Ministerial in late 1999. Following the Seattle protests, I focused on organizing and movement-based writing. During the first decade of the 2000s, I did some of this work as part of the administrative collective of Colours of Resistance, a North American network that sought to develop feminist, multi-racial, anti-racist, queer liberationist, anti-authoritarian, anti-capitalist politics in the global justice movement.
From 2002 until 2010, I was a PhD student in the History of Consciousness program at the University of California at Santa Cruz. With the support of wonderful mentors, I was able to write a dissertation motivated by my political commitments. Through extensive interviews with organizers across the U.S. and Canada, this research delves into the really sharp organizing and thinking developing among anti-authoritarians involved in broad-based movements and also explores big unresolved questions that we face. My book Another Politics is a significantly updated version of this project.
While in Santa Cruz, I organized rank-and-file initiatives with and against my union, participated in the direct actions  that shut down the San Francisco Financial District after the U.S. invaded Iraq in 2003, worked in a solidarity campaign with predominantly Latino/a campus service workers, participated in direct action against military recruitment, and helped with immigrant justice activism, particularly in actions against border vigilantes in 2005 and during the massive spring demonstrations of 2006. I also worked as a teaching assistant in the activist-inspired Community Studies department and mentored many younger student activists.
From 2007-2012, I lived in Sudbury, Ontario, where my partner had a university teaching job. There I was involved in anti-war and Indigenous solidarity activism with Sudbury Against War and Occupation, anti-poverty organizing with Occupy Sudbury and then the Sudbury Coalition Against Poverty, and a support campaign for John Moore, an Ojibwe man fighting a racist conviction that sent him to prison for a decade for a crime he didn't commit. For three years, I was also the primary producer of Sudbury Social Justice News, a semi-regular online compilation of activist-related events and news in Sudbury. And during that time, I became a collective member of the Institute for Anarchist Studies and remained so for eight years.
I moved to Ottawa in 2012 when my partner got a new teaching position. Here I have been involved, at various times, in supporting the Criminalization and Punishment Education Project, End Immigration Detention Network, Families of Sisters in Spirit, Fight for $15 and Fairness, Indigenous Solidarity Ottawa, No One Is Illegal Ottawa, Ottawa Sanctuary City Network, and Raise the Rates.
Beyond radical politics and social movements, my other main passions are long-distance running, listening to heavy metal, and vegan baking.
(Photo by Hudson Shotwell)