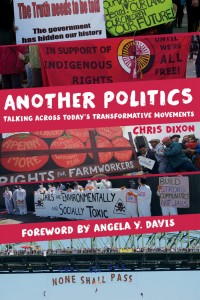 When I read Chris Dixon's Another Politics, I realized that he had staged, recorded, and analyzed many more insightful conversations with contemporary radical activists than I could have imagined.  This book not only allows the reader to feel a part of these conversations about radical movements of today, it also helps us to identify key points of convergence and possible future directions for social justice movements in our part of the world.
—Angela Y. Davis, from the foreword
Another Politics: Talking Across Today's Transformative Movements engages the anti-authoritarian current, a political tendency including abolitionists, anarchists, anti-racist feminists, autonomists, and many other radicals. Cutting across a wide range of left social movements in North America, this current is distinguished by its commitment to directly democratic structures, anti-oppression politics, explicit organization-building, prefigurative political practices, working for reforms while also pursuing revolution, and grassroots organizing. In a time of daunting crises, the anti-authoritarian current offers crucial lessons and strategies for social transformation.
As Another Politics documents, the anti-authoritarian current has emerged out of the fascinating convergence of a variety of radical politics and broader-based movements in recent decades. From this convergence, a growing set of dynamic and dedicated activists – from anti-poverty organizers in Toronto to prison abolitionists in Oakland, from occupy activists in New York to migrant justice organizers in Vancouver – are developing shared politics, practices, and sensibilities based in overlapping areas of work. They are building "another politics," to use an expression from the Zapatista rebels in Mexico that has become increasingly popular north of the border.
Another Politics draws on dozens of interviews with experienced organizers across the U.S. and Canada. It traces the strands of movement and struggle that have led into the anti-authoritarian current, explores the defining principles and practices of another politics, and examines the visionary political approaches and questions that are emerging from the activities of this current. Building on collective reflections, this book also distills hard-earned lessons concerning anti-oppression politics, prefigurative praxis, strategy, organizing, leadership, and organization.
Buy Another Politics at your local independent bookstore or online here.

Table of Contents
Foreword by Angela Y. Davis
Introduction
Part 1: Politics
1. "Fighting Against Amnesia": Movement Histories of Another Politics
2. "Defining Ourselves in Opposition": The Four "Anti's"
3. "Organizing Now the Way You Want to See the World Later": Prefigurative Politics
Part 2: Strategy
4. "Do You Want to Have a Chance at Winning Something?": Developing Strategy
5. "In the World But Not of It": An Emerging Strategic Framework
Part 3: Organizing
6. "Bringing People Together to Build Their Power": Anti-authoritarian Organizing
7. "Leadership from Below": Taking Initiative and Building Capacities
8. "Vehicles for Movement-Building": Creating Organizations
Conclusion: "Imagining Ourselves Outside of What We Know"
Resources for Movement-Building
Organizations and Projects Mentioned
Biographies of Interviewees
Praise
"Another Politics is a much needed and indispensable exploration of the roots of efforts to develop radical politics leading up to Occupy Wall Street and beyond. With the collaboration of dozens of those involved in this process, Chris Dixon provides guidance for transformational change."
—Roxanne Dunbar-Ortiz, author of An Indigenous Peoples' History of the United States
"The product of a major research effort, based on more than two hundred interviews and conversations with organizers from contemporary social movements, Chris Dixon's Another Politics is an invaluable book. It is a map to a new world of struggles and organizational forms, outside the logic of traditional political parties and unions, written with great clarity, insightfulness, and ability to listen to the new voices of our time. All those aspiring to be part of a broad process of social change should have Dixon's book on their shelves."
—Silvia Federici, author of Revolution at Point Zero and Caliban and the Witch
"Another Politics is an insightful, much-needed contribution to US and Canadian movements working for transformative change. Chris Dixon provides a clear framework for interpreting the methods being developed across our local experiments and contextualizes them in the longer trajectories from which they developed. Another Politics is revealing and energizing—it will be a great tool for scholars of social movements in activist reading groups and university classrooms. Another Politics is a useful, readable tool that will help activists engaged in vibrant local work learn about each other's projects and approaches. This book helps us understand what we're doing, how we came to be doing it and why."
—Dean Spade, author of Normal Life: Administrative Violence, Critical Trans Politics and the Limits of Law